Let's take a trip to Yosemite with Tiki's Grill & Bar's Executive Chef Ronnie Nasuti, Sous Chef Jason Berndt & Sales Event Coordinator Jennifer Wardrip.
Good morning San Francisco! Early morning flight over the Pacific!
Chef knives, favorite utensils, and key ingredients packed up ready to go
Is there a joke somewhere that says "What happens when you take 2 chefs out of the kitchen?" kidding. Road trip time!! Hydration and music is key, and finding a missing piece for the gala dinner- a fish aerator to wow for the first course!
If you know, Hawaii does NOT have In & Out Burger so clearly this Hawaiian crew knew where they were headed.
El Capitan world-famous granite face poplar for rock climbers
Sun is almost down as we arrive and get checked in and briefed for our session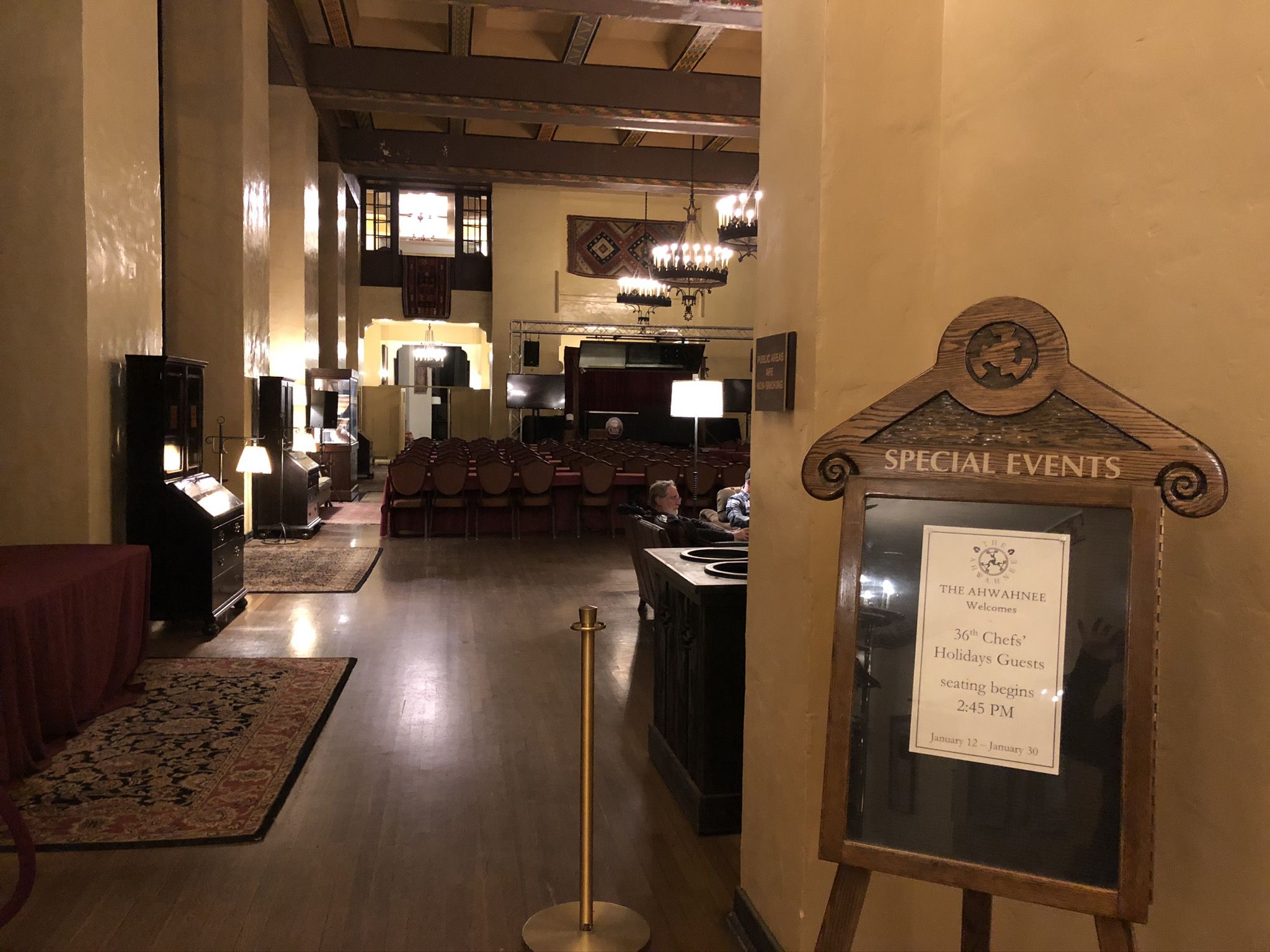 Mahalo to Events Manager Sheila at the Ahwahnee Hotel
Talking about the plan with Chef Paul
Warming up by the fire and then it's off to bed!
DAY 2
Waking up the next morning to this cool crisp setting!
Grabbing some breakfast before getting in the kitchen to start the prep work.
Our culinary demonstration with Chef Ronnie will be in this exquisite grand setting this afternoon. Chef Ronnie doesn't often have to leave paradise for work...but when he does- it's to share his passion and vision with our growing ohana in other memorable places around the globe 😌
Preparing for our Culinary Demonstration and Gala Dinner. Prepping the duck and short ribs.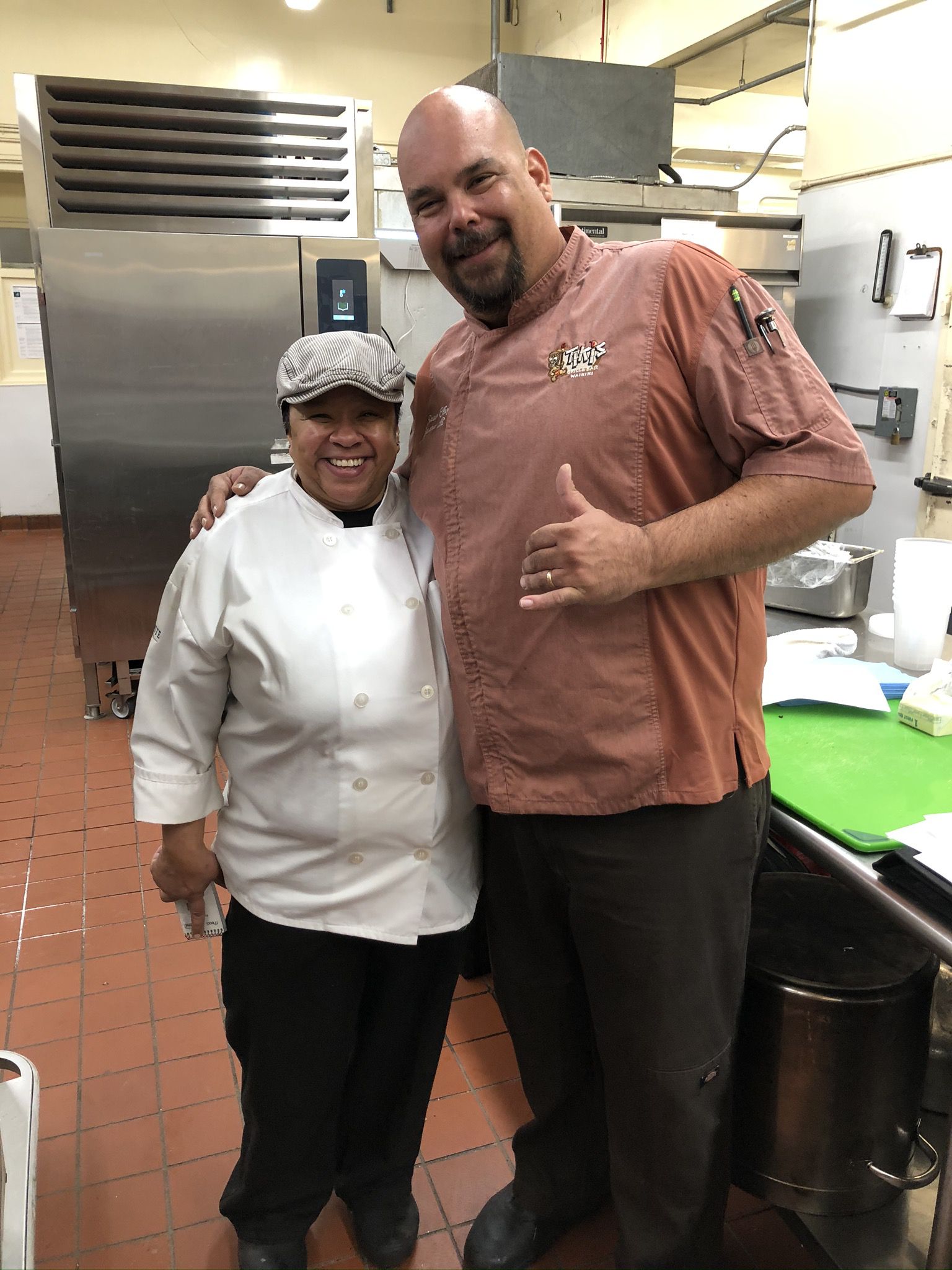 Chef Ronnie Nasuti Tiki's Grill & Bar culinary demonstration and tasting and talking with Moderator and Food Writer Extraordinaire Jessica Battilana.
Misoyaki butterfish, forbidden black rice, braised greens, yuzu vinaigrette
Getting ready for "Meet the Chefs" reception.
Introduction and thanking the guests, hosts, and chefs
Chef Ronnie greeting the guests with an intro for the five-course gala dinner tomorrow night
Aloha Chef Riley!!!
Ahi Crudo ready to be plated for the first course.
Can you just imagine this Teppanyaki Hamachi on your plate?
The next course served was the Sous Vide Pekin Duck Breast.
The Island Style Japanese Spiced Beef Short Ribs.
Tiki's very own Passion Orange Creme Brulee to finish off the evening.
It was truly an honor to be apart of this event in such a beautiful place such as Yosemite. The Ahwanee hosting their 36th Annual Chef's Holidays is a memory our team will never forget.
The AHwanee Hotel in Yosemite, California.
Moderator & Food Writer: Jessica Battilana
Demonstrator: Chef Patrick Mulvaney of Mulvaney's B & L
Moderator: Josey Baker of Josey Baker Bread
Start your post here...